110.00
110.00
110.00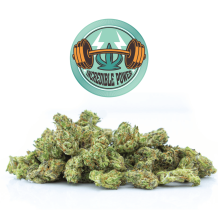 Incredible Power CBD 1:1 Popcorn | Indica-Hybrid
Pick-up Location
Note:
Price may vary at different stores
Description
Introducing our most powerful CBD strain in the line-up. Incredible Power really is incredible. This three way cross, bred and grown strictly to provide the highest amounts of CBD possible provides far ranging, outstanding medicinal benefits. Incredible Power tests at a 1:1 THC/CBD ratio, hovering around 10-13%. A LOT of CBD! The extremely high CBD percentage will provide relief from chronic pain, inflammation, insomnia, migraines, mood swings, and muscle spasms. Be ready to start with a slow building head high that will seep its way into the rest of your body providing relief and relaxation that will gently lull you into a wonderful sleep
99NTgNJmwr
This product is not rated yet. Be the first to review it.
Similar Products