15.00
15.00
26.25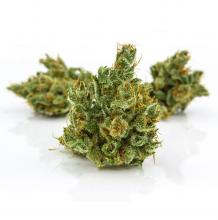 Chocolope | Sativa
Pick-up Location
Note:
Price may vary at different stores
Description
Chocolope is a robust sativa hybrid that is a cross of Chocolate Thai and Cannalope Haze. These hefty buds have a scent of sweet cocoa provided by the terpenes Limonene, Linalool, Pinene and Myrcene. Chocolope creates a floaty cerebral effect and is a great stress reliever.
tG28BdvaQ4
amelie
Chocolope | Sativa
Chocolope is my favorite strain, its unique flavor reminds me of chocolate and jasmine , it s not only the tastiest sativa, it also has the best effects. It s not too uplifting or racy. It s PERFECT !
Jon Q
Chocolope | Sativa
A bit too strong for my taste but nonetheless a great strain. Pace yourself if you are a beginner. But, once you get used to it - wow! Prepare for an energy booster like you've never had one before from weed.
Trease
Chocolope | Sativa
Amazing strain, def my fav and I'm a seasoned smoker
egwerb
Chocolope | Sativa
Similar Products