20
20
20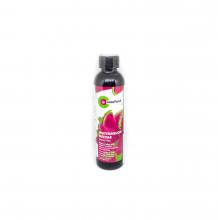 CannaPunch | Watermelon 100mg Rec
Pick-up Location
Note:
Price may vary at different stores
Description
CannaPunch Watermelon Nectar 100mg. The complex yet delicate flavor of watermelon is captured so expertly in every sip! The colder this drink gets the more bold the flavor profile gets! This nectar can be frozen for some fun and delicious popsicles. The team of CannaPunch experts has been passionately producing non-carbonated, cannabis-infused beverages that really pack a punch! It is made from some of the highest quality Colorado cannabis where the medicinal concentrate is produced using only the choicest whole buds. No exceptions! DIETARY RESTRICTIONS: 100% all-natural, vegan, gluten free, soy free, corn syrup free, and dairy free. DOSAGE: 100 mg THC total. 40 capfuls x 2.5mg THC each.
xFSyXiTTMn
Tina
CannaPunch | Watermelon 100mg Rec
This is definitely my go to edible from now on. And I tried many. This one was amazing. Kicked in nice and smooth. And what I love about it is that watermelon taste. Just perfect.
Similar Products