1
USD
10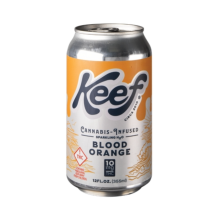 Keef Cola Sparkling Water | Blood Orange 10mg Rec
Pick-up Location
Note:
Price may vary by store
Description
Keef Cola's Blood Orange Sparkling Water 10 mg is the latest addition to their award-winning line of cannabis-infused beverages. This sparkling water offers a refreshing, tart flavor of juicy oranges to match the premium cannabis with which it's filled. Invigorating, delicious and health-centric, Keef Cola infused each soda with CO2-extracted cannabis that's free of unwanted weedy flavors.
DIETARY: Sugar free, low calorie.
STRAIN TYPE: Infused with rotating Hybrid strains.
DOSAGE: 12 fl oz containing 10mg THC total.
NX9uYA9ZuG
This product is not rated yet. Be the first to review it.
Similar Products