Inferno OG Strain Review. Fire Up Your Day
Silver Stem Fine Cannabis is proud to present its latest addition - Inferno OG.
We know you have enjoyed our newest strain and with that in mind here are the details about Inferno OG you asked about.
Is Inferno OG Indica or Sativa? Strain Origins
Inferno OG is a hybrid that is the result of crossing Afghan Haze and an OG strain from Gage Green. Afghan Haze is a hybrid that leans to sativa bred from Afghani (indica) and Haze (sativa) cannabis strains. 
What Flavor is Inferno OG? Terpene Profile
Inferno OG's terpene profile is extremely rich with predominance of Myrcene, Limonene and Caryophyllene providing for the pungent and spicy flavor of the strain. The strain is also famous for its diesel, musky, peppery notes with hints of citrus and pine.
Keep in mind that you can view the prevailing terpenes for all Silver Stem strains in our Flower section.
Inferno OG Bud and Flower Appearance
The leaves are rather wide and the plant itself has lots of purple and orange throughout. The plants and the buds usually have a dark green color, although Silver Stem's cultivar tends to have nugs of a lighter green shade. These are covered in a layer of white trichomes and interspersed with bright yellow pistils. The flame-like shape of the dense buds might have also contributed to the name. 
How to Grow Inferno OG Strain?
Growing Inferno OG is not for beginners. It is a challenging but rewarding process that can be a great way to improve your skills. The flowers mature in about 8.5-9 weeks indoors but it can also be grown outdoors.
How Much THC is in Inferno OG?
The recent testing shows that Silver Stem's Inferno OG contains an average of over 25% THC peaking at almost 30% and 0.5% CBD, which is higher THC but lower CBD than other varieties of the strain. Some Inferno OG show up to 3% CBD and 20-25% THC.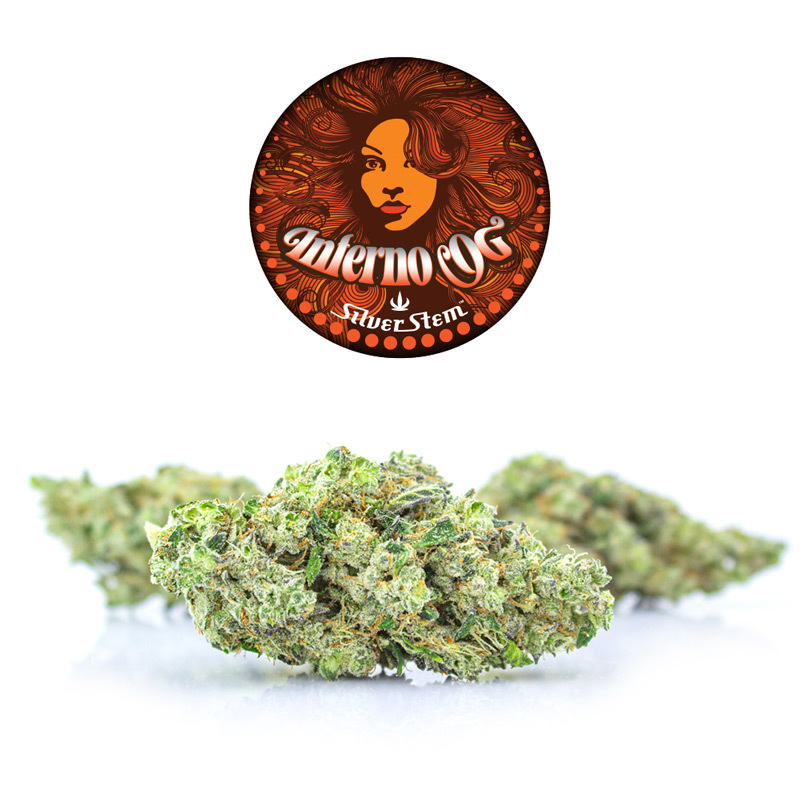 What Kind of High Do You Get from Inferno OG?
Inferno OG is not a strain for novices but if you go slow, you will be rewarded with a whole range of effects. The first word that comes to mind is uplifting. Inferno OG offers a potent head high that turns into a wave of creativity as it mellows out. It is a great daytime strain that is energizing but if you are not used to cannabis consumption it might feel a bit racy. 
Have you tried our Inferno OG? Share your experience with others!
What Are the Potential Benefits of Inferno OG?
It is a perfect pick me up throughout the day, as well as a great means to alleviate a variety of symptoms. Thus, Inferno OG is known to help with pain management and may also aid digestion, as well as keep the food down. The strain's indica part may also offer help with insomnia.  
Conclusion
Inferno OG is not for the faint of heart and might take some time to get used to but it is worth it. This day time hybrid has a unique delicious smell, beautiful buds and will get you up and running in no time.
Select your dispensary and click order to navigate the menu