What is a Rosin Gummy? Learn All About These Natural and Solventless Treats!
Introducing one of the most trending cannabis products of the year - rosin gummies.
After legalization of cannabis and infused products in numerous states the industry has been growing, developing and bringing new products every year. In today's article we will be looking into one of the most exciting edibles - rosin gummies.
What is Rosin?
First thing's first - these gummies are infused with rosin, that much is clear from the name. So what is it? Rosin is a premium cannabis concentrate. It is a solventless extract which is made by using heat and pressure, and does not involve using butane, CO2, or any other solvents, meaning that the final product is extremely pure but the production process results in a higher price than concentrates like shatter and wax.
Rosin can be dabbed, added to flower, or infused into various edibles. You can learn more about this extract by clicking on the article below.
Edibles
Edibles are a popular way of marijuana consumption. Depending on the type of edible, the THC it is absorbed in your mouth, stomach or both, and this also affects the time it takes for the effects to start and how long they will last.
Edibles come as baked products like brownies, but also in tinctures, infused drinks, hard lozenges, chocolates, and of course the most popular - gummies. These come in all sizes, shapes, flavors, and different infusions.
Click #edilbes to learn everything about them including dosage, types, effects, and more
What is a Rosin Gummy? Are Rosin Gummies Better?
Rosin gummies, or rather the rosin used in their production is typically made from flower that is fresh frozen to ensure that you get the same experience as you would with a certain strain of flower - nothing lost, nothing added. Well, except its edible form.
Rosin gummies are made without solvents focusing on three important things - full terpene profile, full spectrum of cannabinoids, and just like the plant - no additives!
Rosin had been considered a niche product for the purists but in recent years it has been gaining more widespread popularity and rosin gummies are the latest to capture the attention of consumers.
How Much Rosin is in Edibles?
Edibles measure their potency not in THC % as it is done in flower and concentrates but in milligrams. Typically, a recreational pack of gummies will contain 10 gummies containing 10 mg THC each, with a total of 100 mg THC per pack.
Rosin gummies are considered more of a connoisseur product and vendors usually provide a lot of details - terpene profile, cannabinoid content, flavors, effects and so on.
Wana Fast Acting Rosin Gummies
Wana is an established manufacturer of high quality edibles with a presence throughout the US and Canada, and an ever expanding range of products.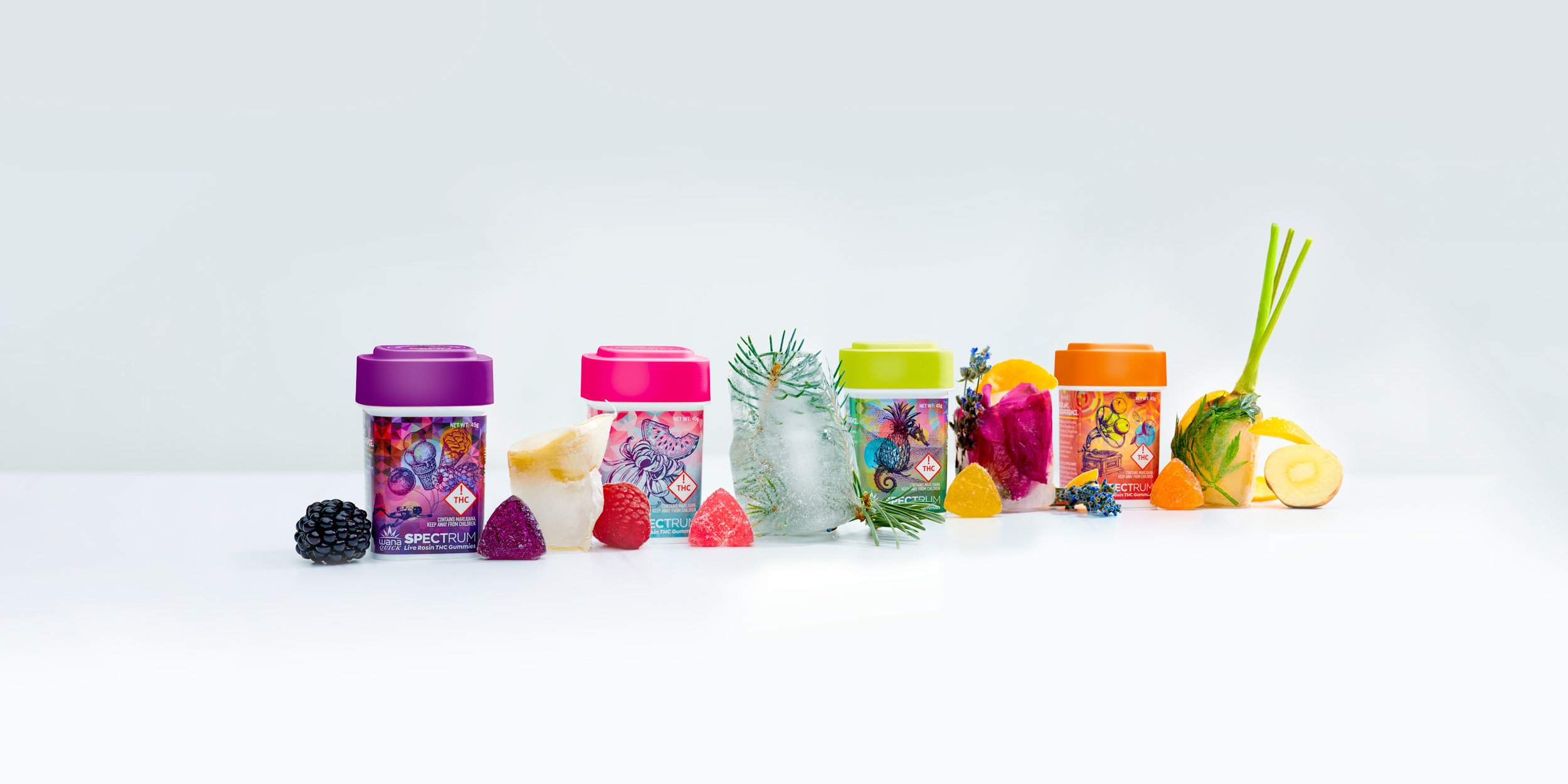 Their latest offering created by the in house Innovative team is Wana rosin gummies. They are made from first press live rosin that is made entirely from fresh frozen plants, preserving all the active terpenes and other compounds found in living cannabis strains. The rosin is made using only ice water, heat, and pressure.
Wana gummies are pectin-based, gluten-free, vegan, and kosher.
And the QR code on the packaging is a bonus to brighten your day. Not only will it tell you all the tiniest details about your product but it also offers Augmented Reality experience that is just plain fun. Next time you get your fast acting gummies from Wana - give it a try!
What are Dialed In Gummies? Are Dialed In Gummies Indica or Sativa?
Dialed In is a serious player on the rosin gummies market. It is known for its superb, handcrafted rosin gummies that are made in small batches and come in recyclable tins for your convenience.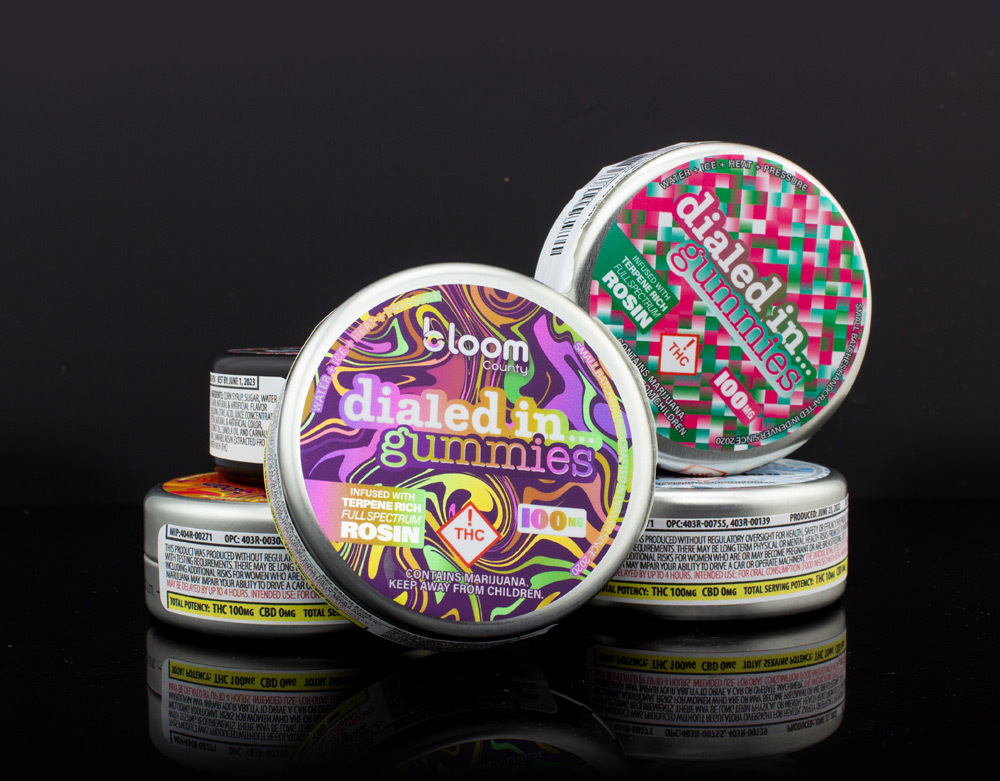 Dialed In also boasts the "sous vide" process - a technique when vacuum sealed food is cooked in hot circulating water, although they use sealed mason jars instead of bags. Because none of the material is exposed to open air during cooking and because sous vide cooking is more gentle than other methods, the resulting product retains more flavonoids, cannabinoids, and terpenes.
The vendor has recently launched a new product - Dialed In liquid gummies. This latest hit is a live rosin syrup that has a high terpene count and can be consumed in a number of ways including cannabis infused cocktails.
Looking to Try Rosin Gummies?
If you wish to try rosin gummies, visit one of our Colorado dispensaries and our budtenders will help you find the right ones for you! And you can check out the available products and place a pre order online in our live menu - just pick your dispensary and click Order Now.