1
USD
10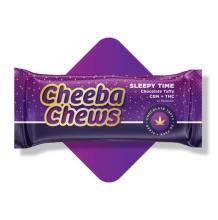 Cheeba Chews | Sleepy Time 100mg Rec
Pick-up Location
Note:
Price may vary by store
Description
Enjoy Cheeba Chews 2:1 blend of THC and CBN, with a touch of melatonin, to help you rest easy. With just enough THC to help enhance the effects of CBN (naturally occurring cannabinoid known to act as a sleep-aid), enjoy one deliciously rich chocolate taffy just before bedtime. Sweet dreams are made of these!
DIETARY RESTRICTIONS: Gluten & peanut free; low calorie, low sugar.
INGREDIENTS: Sugar, Glucose Syrup, Cocoa Powder, Palm Kernel and Palm Oil (sustainably sourced), Nonfat Milk, Chocolate Liquor, Soy Lecithin (emulsifier), Natural Flavors, Whey, Salt, Caramel Color.
STRAIN TYPE: 2:1 THC:CBN.
DOSAGE: 100mg THC and 50mg CBN total. 20 taffies x 5mg THC and 2.5mg CBN total.
DHfgsdBD5Q
Characteristics
Manufacturer
Cheeba Chews
Characteristics
Manufacturer
Cheeba Chews
Conn
Cheeba Chews | Sleepy Time 100mg Rec
The name says it all and its so hard to find CBN and other cannabinoids. Everyone's hung up on thc and cbd. If you need sleep, cbn is what you are looking for.
Similar Products