1
USD
10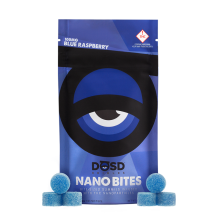 DOSD Nano Bites | Blue Raspberry 100mg Rec
Pick-up Location
Note:
Price may vary by store
Description
Blue Raspberry NanoBites 100mg are a best seller for good reason. Your favorite slushy flavor from the nearby convenience store, packed in a small gummy bursting with flavor! Infused with water-soluble cannabinoid nanoparticles. These bite-sized edibles are infused with cannabinoid nanoparticles for increased bioavailability, quicker onset, and extremely consistent experience with every gummy and batch. INGREDIENTS: Glucose Syrup, Cane Sugar, Water, Gelatin, Sorbitol, Vegetable Glycerin, Tartaric Acid, Natural & Artificial Flavoring, THC Water-Soluble Distillate Blend, Natural & Artificial Coloring. DIETARY RESTRICTIONS: Gluten free. DOSAGE: 100mg THC total. 10 pieces x 10mg THC each.
3YfoqqWFLZ
Think
DOSD Nano Bites | Blue Raspberry 100mg Rec
Read up on these nano bytes as they call them. It's the only true edible withput all that crap and marketing. And feel the consistency. Perfection.
tinaG
DOSD Nano Bites | Blue Raspberry 100mg Rec
Loved the flavor. Decent buzz as well
Similar Products