1
USD
10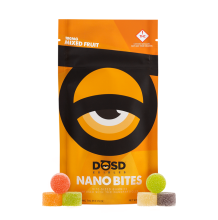 DOSD Nano Bites | Mixed Fruit 100mg Rec
Pick-up Location
Note:
Price may vary by store
Description
Mixed Fruit NanoBites include an assortment of tasty, bite-sized gummies coated in sugary goodness! Infused with water-soluble cannabinoid nanoparticles. Flavors include Tangie, Tart Cherry, Citrus Splash, Baja Pineapple & Purple Punch. These bite-sized edibles are infused with cannabinoid nanoparticles for increased bioavailability, quicker onset, and extremely consistent experience with every gummy and batch. INGREDIENTS: Glucose Syrup, Cane Sugar, Water, Gelatin, Sorbitol, Vegetable Glycerin, Tartaric Acid, Natural & Artificial Flavoring, THC Water-Soluble Distillate Blend, Natural & Artificial Coloring. DIETARY RESTRICTIONS: Gluten free. DOSAGE: 100mg THC total. 10 pieces x 10mg THC each.
ADrbdNPtQk
Priscilla
DOSD Nano Bites | Mixed Fruit 100mg Rec
Easy to use, funky flavors. 5 milligram bites would be better.
Similar Products