1
USD
10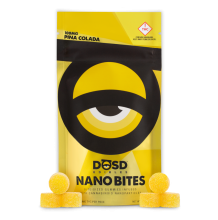 DOSD Nano Bites | Pina Colada 100mg Rec
Pick-up Location
Note:
Price may vary by store
Description
Piña Colada NanoBites are tropical, refreshing & pack a serious punch! A solid blend of coconut & pineapple makes this treat a fan favorite, regardless of the season. Infused with water-soluble cannabinoid nanoparticles. These bite-sized edibles are infused with cannabinoid nanoparticles for increased bioavailability, quicker onset, and extremely consistent experience with every gummy and batch. INGREDIENTS: Glucose Syrup, Cane Sugar, Water, Gelatin, Sorbitol, Vegetable Glycerin, Tartaric Acid, Natural & Artificial Flavoring, THC Water-Soluble Distillate Blend, Natural & Artificial Coloring. DIETARY RESTRICTIONS: Gluten free. DOSAGE: 100mg THC total. 10 pieces x 10mg THC each.
qgXwiCFkiZ
Janice
DOSD Nano Bites | Pina Colada 100mg Rec
Pina Colada is my favorite! Tried other nano bytes but this one just does it!
Similar Products