14.00
USD
14.00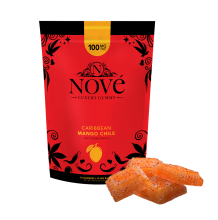 Nove Gummies | Caribbean Mango Chile 100mg Rec
Pick-up Location
Note:
Price may vary at different stores
Description
Fall back on a beachside hammock. Pop a refreshing piece of tropical mango delight, coated with a kick of chile spice.
Blended into a bite of sugar-dusted deliciousness. Enjoy Nové gummies, luxuriously crafted from premium, plant-based ingredients and the finest cannabis oil.
To ensure quality, safety, and dosage consistency, all infused products undergo triple lab testing at a certified facility.
STRAIN TYPE: Hybrid.
DOSAGE: 100mg THC total. 10 pieces x 10mg THC each.
rag9sq3K8X
This product is not rated yet. Be the first to review it.
Similar Products