1
USD
10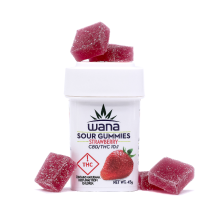 Wana CBD Sour Gummies | 10:1 Strawberry 10mg Rec
Pick-up Location
Note:
Price may vary by store
Description
Consistent. Potent. Delicious.
Bursting with delicious fruit flavor, these gummies contain 10mg of CBD for every 1mg of terpene-enhanced THC distillate, offering a serene experience with very little to no psychoactive effects.
Sweetened with Organic Ingredients (No High-Fructose Corn Syrup)
All-Natural Flavors and Colors
Enhanced with a Proprietary Blend of 30+ Terpenes
Child-Proof, Food-Safe, Sustainable Packaging
INGREDIENTS: Organic Sugar, Organic Tapioca Syrup, Pectin (Pectin, Potassium Sodium Tartrate, Polyphosphate, Sucrose), Citric Acid, Natural Flavoring and Coloring, Sodium Citrate, CBD Isolate, Marijuana Concentrate, and Botanical Terpenes for Flavor.
DIETARY: Vegan and Gluten-Free.
DOSAGE: 100mg CBD and 10mg THC total. 10 pieces x 10mg CBD and 1mg THC each.
oQSWtpNEuZ
Chelsea
Wana CBD Sour Gummies | 10:1 Strawberry 10mg Rec
Best weed gummies for sleep! Especially if you are a beginner like me
Similar Products