1
USD
10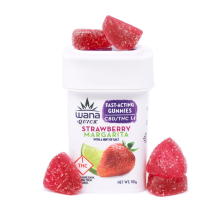 Wana Fast Acting Gummies | Strawberry Margarita 1:1 100mg Rec
Pick-up Location
Note:
Price may vary by store
Description
Wana Fast Acting Gummies Strawberry Margarita 1:1. Fast, effective, and innovative, Wana Quick Gummies harness TiME™ (Thermodynamic individual Molecular Encapsulation), a new quick onset technology from Azuca. Azuca TiME™ creates individually encapsulated cannabinoids that work at the molecular level to enter the bloodstream immediately, providing a 5-15 minute onset and Delta-9-THC effects lasting up to 2-3 hours for most people.
This fast-acting technology is paired with the sweet and citrusy flavors of a strawberry margarita with a hint of salt.
INGREDIENTS: Organic Cane Sugar, Organic Tapioca Syrup, Pectin (Pectin, Potassium Sodium Tartrate, Polyphosphate, Sucrose), Citric Acid, Natural Flavoring and Coloring, Sodium Citrate, Modified Food Starch, Xanthan Gum, CBD, THC, Sea Salt.
DIETARY RESTRICTIONS: Gluten free, vegan, no major allergens.
STRAIN TYPE: 1:1 CBD:THC. Hybrid.
DOSAGE: 100mg CBD and 100mg THC total. 20 gummies x 5mg CBD and 5mg THC each.
gfQyE8Csbg
This product is not rated yet. Be the first to review it.
Similar Products