1
USD
10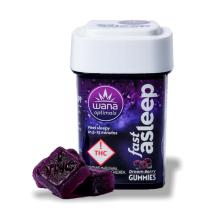 Wana Fast Asleep Gummies | 5:1 Dream Berry 20mg Rec
Pick-up Location
Note:
Price may vary by store
Description
These revolutionary nighttime gummies deliver a sweet mixed berry flavor, along with a custom blend of CBD, THC, CBG, CBN, and melatonin. They're also enhanced with more than 30 specialized terpenes, curated based on AI-generated data from thousands of consumer experiences — and all delivered via fast-acting nano-technology to help you feel sleepy in just 5-15 minutes.
Advanced Nano-Technology Delivers Effects in 5-15 Minutes
Custom Sleep Blend Including 30+ Specialized, Sleep-Specific Terpenes
Sweetened with Organic Ingredients (No High-Fructose Corn Syrup)
All-Natural Flavors and Colors
Child-Proof, Sustainable Packaging
INGREDIENTS: Organic Sugar, Organic Tapioca Syrup, Pectin (Pectin, Potassium Sodium Tartrate, Polyphosphate, Sucrose), Citric Acid, Sunflower Oil, Medium Chain Triglycerides, Natural Flavoring and Coloring, Azuca TiME (Modified Food Starch, Xanthan Gum, Citric Acid), Marijuana Concentrate, Vegetable Oil, Carnauba Wax, Sodium Citrate, Melatonin, and Botanical Terpenes for Flavor.
DIETARY: Vegan and Gluten-Free.
DOSAGE: 100mg CBD and 20mg THC total. 10 pieces x 10mg CBD and 2mg THC each.
przk7GYMR9
This product is not rated yet. Be the first to review it.
Similar Products