1
USD
10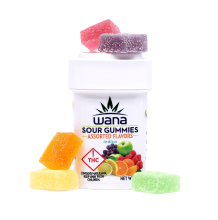 Wana Sour Gummies | Indica 100mg Rec
Pick-up Location
Note:
Price may vary by store
Description
Colorado's leading edible, Wana Sour Gummies are a delicious mix of Grape, Lemon, Green Apple, Raspberry, and Orange flavors. Made from an original recipe, hand crafted and infused with Indica tincture in the cooking process. They are potent, consistent and a Colorado favorite. INGREDIENTS: Sugar, Corn Syrup, Pectin, Citric Acid, Natural Flavoring and Coloring, Sodium Citrate, THC. DIETARY RESTRICTIONS: Gluten free, vegan, no major allergens. STRAIN TYPE: Indica. DOSAGE: 100mg THC total. 10 gummies x 10mg THC each.
fWfGtDjizn
KenD
Wana Sour Gummies | Indica 100mg Rec
I love Wana's sour gummies cause they tell you if it's indica or sativa and you know what to expect.
Similar Products