1
USD
10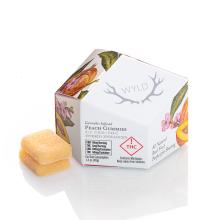 Wyld Peach Gummies | CBD 2:1 50mg Rec
Pick-up Location
Note:
Price may vary by store
Description
Peach 2:1 (CBD:THC) Hybrid gummies are Wyld's juiciest gummies yet! New to edibles? These Peach gummies are made with more CBD than THC, making them a great option for easing into edibles. They are made with real fruit and enhanced with a balanced terpene profile that may assist in creating a sense of ease and overall well being. Ideal for when you need to take a break!
INGREDIENTS: Tapioca Syrup, Sugar, Water (H20), Huckleberry Juice Concentrate, Gelatin, Natural Flavoring, Coconut Oil, Citric Acid, Malic Acid, Cannabis Extract, Sunflower Lecithin, Coconut.
PREVAILING TERPENES: Limonene, Linalool, Alpha-Pinene, Beta-Pinene.
STRAIN TYPE: 2:1 CBD:THC. Hybrid Enhanced.
DOSAGE: 50mg THC and 100mg CBD total. 10 gummies x 5mg THC and 10mg CBD each.
PZyCkCpWjj
Kathleen Campbell
Wyld Peach Gummies | CBD 2:1 50mg Rec
My first time with a gummie and these are delicious and relax me completely for many hours--also heightened senses--hearing, vision, and of course taste. Highly recommend. No reflux issues either
Similar Products