1
USD
10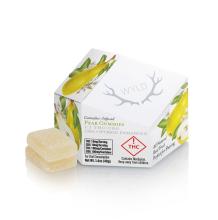 Wyld Pear Gummies | CBG 1:1 Hybrid 100mg Rec
Pick-up Location
Note:
Price may vary by store
Description
The restorative effects of CBG in combination with THC, alongside the terpenes found in Hybrid strains may provide greater rejuvenation than THC alone. This combination may be particularly useful when looking for balance. It's a little like a bubble bath for your brain. Enjoy!
INGREDIENTS: Sugar, Tapioca Syrup, Water, Pear Juice Concentrate, Gelatin, Coconut Oil, Natural Flavoring, Citric Acid, Malic Acid, Pectin (Pectin, Sodium Citrate), Cannabis Extract, *Hemp Extract, Sunflower Lecithin. Contains Coconut.
PREVAILING TERPENES: Limonene, Linalool, Alpha-Pinene, Beta-Pinene.
STRAIN TYPE: 1:1 CBG:THC. Hybrid Enhanced.
DOSAGE: 100mg THC and 100mg CBG total. 10 gummies x 10mg THC and 10mg CBG each.
FYHng35e69
This product is not rated yet. Be the first to review it.
Similar Products