Cannabis Shopping Guide: THC and CBD Content
Let us look into the matter that worries many people new to cannabis, or infused products.
Introduction
Cannabis has numerous health benefits and helps with symptoms of various ailments. It does so through its elements, or as they are called cannabinoids. There are over 100 identified cannabinoids with various effects, but we will focus on the two main ones - THC and CBD.
THC & CBD Content
THC or Tetrahydrocannabinol is the psychoactive element of the cannabis plant that provides the "buzz". It also helps managing a variety of conditions.
CBD or Cannabidiol is a non-psychoactive element with a number of medical applications that are currently being studied at lengths.
These cannabinoids can be combined to various effects. For instance, higher CBD content in a product will not only provide the effect you seek, but will also neutralize the "high" effects of THC without diminishing its benefits. You can read more about combining THC and CBD in our article.
Now that we covered the basics, let's take a look at the numbers, since this is the first thing you will encounter on your path to cannabis consumption
How much THC / CBD is in a product? 
A cannabis product has several numbers or indicators - its weight, THC / CBD percentage or content. 
The numbers are a bit different for flower and extracts compared to edibles.
THC Content in Flower / Extracts
Flower is usually measured and sold in the following weights: 1 gram, 1/8 ounce (about 2 g), 1/4 ounce (8 g), 1/2 ounce (14 g) and an ounce (28 g) 
A gram is usually the minimum amount sold for flower and concentrates, such as wax, shatter, rosin and so on, while vape oil cartridges come in sizes from 250 mg (or 0.250 g) to 1g. 
The THC content varies depending on the strain of flower, as well as method of extraction and manufacturer in case of concentrates.
The average THC content in cannabis flower is around 20%, meaning that 1g will contain around .200 mg of pure THC. Note that, according to polls, the majority of people smoke way less than a gram per day. Exact THC and CBD percentages from the latest testing of Silver Stem flower can be found here

For those in need of higher doses for medical purposes, those with higher tolerance, connoisseurs, or just wishing to get blitzed, there is a great array of concentrates, with potency going way over 90%. 
An average concentrate contains about 75% THC, meaning that a gram of extract is almost 4 times more powerful than a gram of flower. The exact percentages can be usually found on the packaging.   
THC Content in Edibles
In edibles, you do not need to count the percentages. The number of milligrams (mg) specified in the product name signifies the amount of the dominant cannabinoid, which by default is THC.
For instance the Blue Kudu chocolate seen on the screenshot below contains 100 mg THC.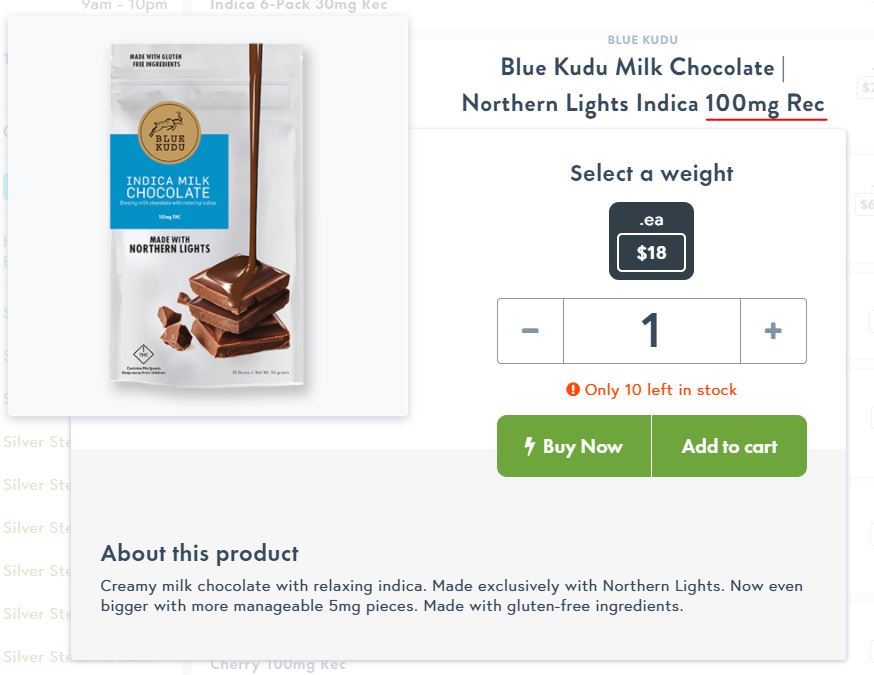 Edibles are usually divided into 10 pieces containing the recommended dose of 10 mg THC each, but in this case the manufacturer opted for 5 mg bites.
In drinks, tinctures, as well as topicals, you need to look at the THC and CBD content and not the weight or volume of it. The latter is only needed to calculate the dosage. For instance if you have a 100 ml bottle that contains 20 mg THC total, it means you will need to drink 50 ml or half of it, if you want 10 mg of THC. 
If a product has a CBD:THC ratio of 1:1, the number of mg signifies both, THC and CBD. This 1906 chocolate, for instance, contains 30 mg THC and 30 mg CBD.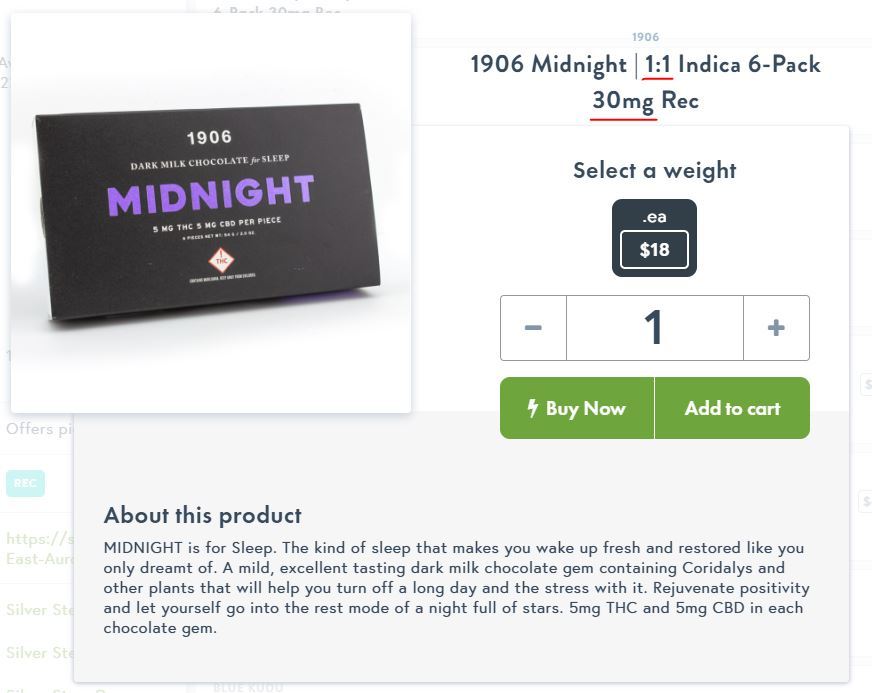 If a product is marked as CBD only or CBD dominant, the number of mg will stand for CBD content and the THC is either specified in the description or can be calculated based on the ratio and CBD content. It is usually stated on the package as well.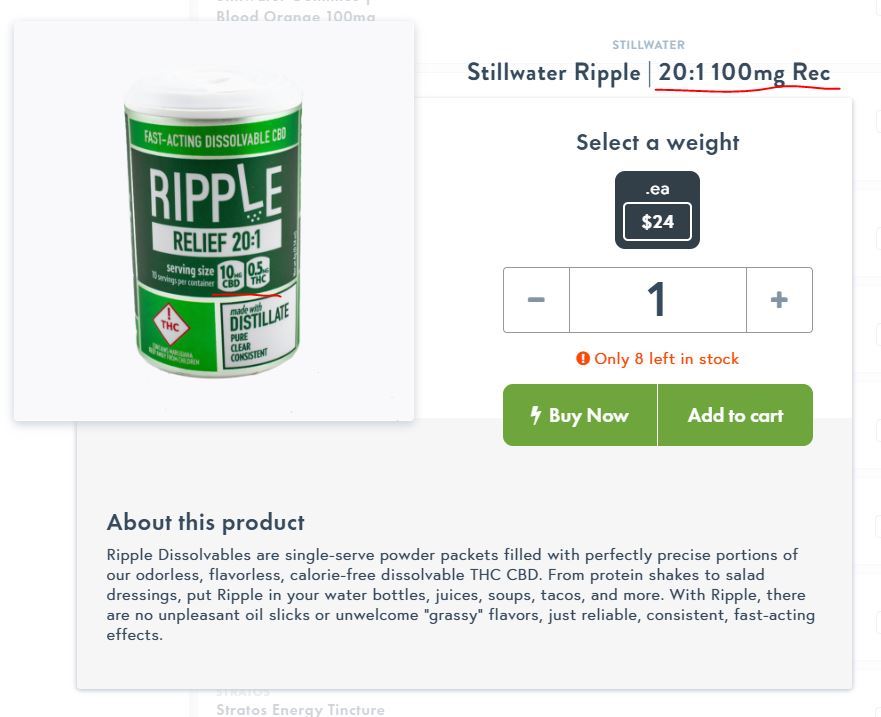 And don't worry if it's a bit confusing and you don't understand something - we are always here to help you with it, either online in our webchat or in store.
And now that you know all about the THC and CBD content, you are probably asking yourself - How much cannabis can I buy? How much should I take? These and more will be answered in the next parts of our in-depth cannabis shopping and consuming guide series.