Delta-8 THC Products - What Are the Health Risks? Is It Legal?
Psychoactive products claiming to be hemp derived have flooded the markets, especially in the states where cannabis is still illegal.
What is Delta-8 THC? Delta-9 THC vs Delta-8 THC
Delta-9 THC is what people commonly refer to as just THC or Tetrahydrocannabinol, and that is what we will do in this article. Delta-8 has a very similar chemical structure to Delta-9. Delta-8 THC effects include feelings of euphoria, relaxation, and has various potential medical properties while its psychoactive effects are less pronounced - about 35-40% of THC. 
How is Delta-8 THC Produced?
Unlike the regular THC, Delta-8 is not found in substantial quantities in the cannabis plant. It is commonly synthesized from CBD and Delta-9 THC found in the hemp plant. Researchers still do not know much about Delta-8 compared to Delta-9 THC.
Cannabis is still considered a Schedule I drug at the federal level, alongside heroin, LSD, ecstasy, and others, while industrial hemp - cannabis plants containing less than 0.3% THC - became legal as the result of the 2018 Farm Bill which created a loophole and paved the way for the spread of Delta-8 THC. 
Delta-8 THC Has Serious Health Risks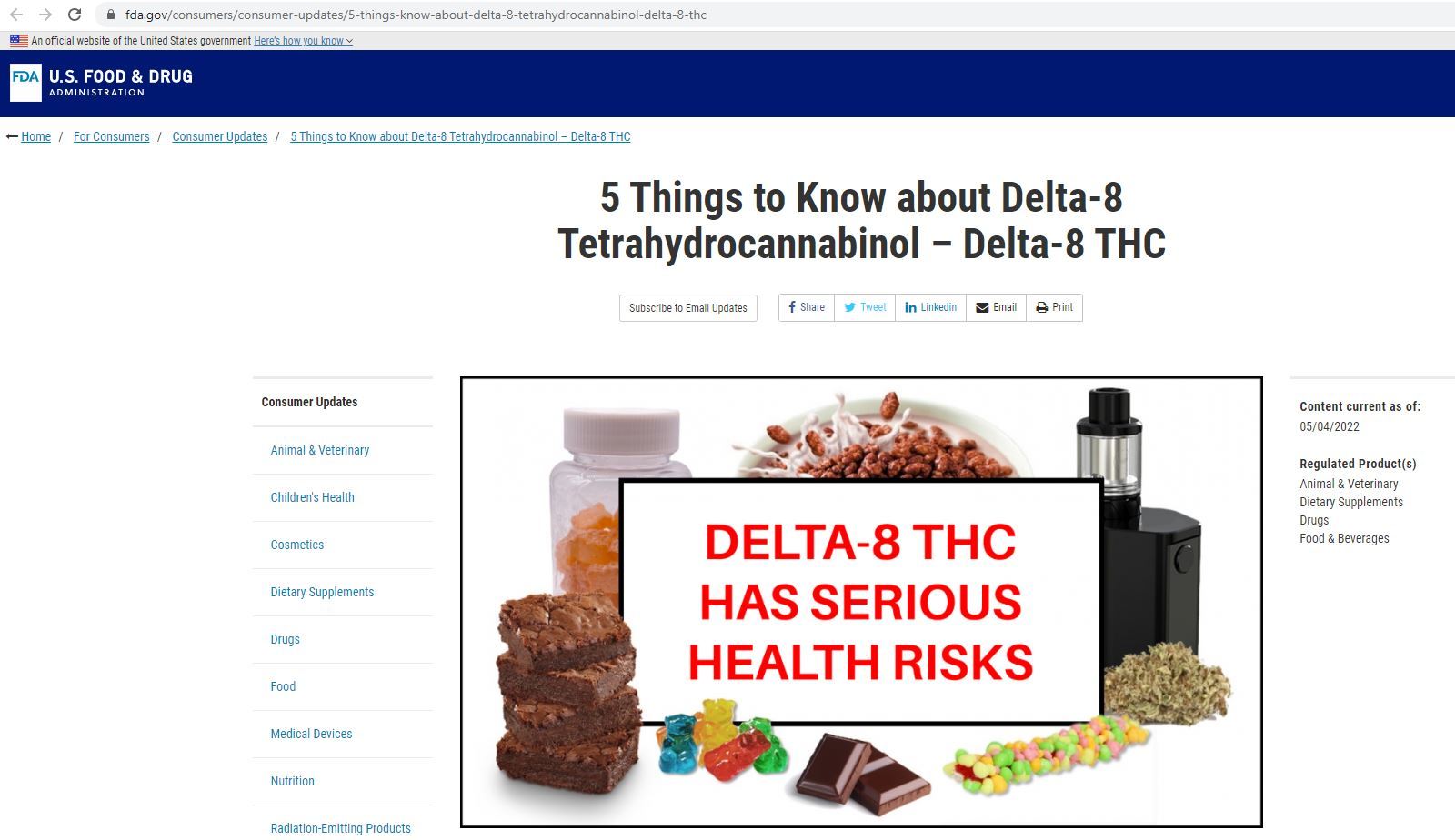 The above is a screenshot of the FDA's take on Delta-8 THC.
The biggest issue with the Delta-8 THC is that it does not typically undergo any testing and its production is completely unregulated. 
FDA has highlighted the following in regard to Delta-8:
- Delta-8 products have not been approved or even evaluated by the FDA. Numerous manufacturers of Delta-8 THC gummies and carts provide false marketing claims as to its medical properties.
- National poison control centers received 2,362 exposure cases of delta-8 THC in just over a year.
- The production of Delta-8 THC often involves use of potentially harmful chemicals to create the concentrations of delta-8 THC that is advertised and may occur in uncontrolled or unsanitary settings.
Is Delta-8 THC Legal?
At the moment this is somewhat of a gray area.
Delta-8 THC is currently unregulated at the federal level as it is supposedly hemp derived. It is being sold in stores and online and advertised as legal to be shipped by mail. Delta-8 manufacturers do not pay the cannabis tax in states where it is illegal.
Delta-8 products are often marketed as federally legal alternatives to Delta-9 THC counterparts but this is questionable as some believe that the Oct. 2020 DEA IFR addressing "synthetics" applies to Delta-8 and other hemp derivatives allowed by the Farm Bill.
The FDA has expressed concerns about the spread of Delta-8 THC products which are marketed for therapeutic or medical uses without any approval for it. Unsubstantiated therapeutic claims violate the federal law and can put consumers at risk, as these products have not been proven to be safe or effective. "This deceptive marketing of unproven treatments raises significant public health concerns because patients and other consumers may use them instead of approved therapies to treat serious and even fatal diseases," states the FDA's official website in regard to Delta-8 products.
Why is Delta-8 illegal in Colorado?
Citing numerous health safety concerns, 18 states have already banned or restricted Delta-8.
In early September 2022, Delta-8 has been categorized as a controlled substance under the Colorado state law, meaning that purchase, use, possession, sale, distribution, and production of delta-8 THC products is prohibited across the state.
Natural levels of delta-8 THC present in hemp and marijuana are permitted in Colorado since no chemical synthesis converting it from CBD or Delta-9 takes place.