Ghost OG Strain Review. A Balanced Medical Strain
Ghost OG is a very popular strain - basically a classic - with indica like properties but not too much sedation.
The strain is a prominent member of the OG family and is known for its relaxing effects.
Is OG Ghost an Indica, Sativa or Hybrid?
Ghost OG is an indica-leaning hybrid that offers balanced and mellow high. It is considered to be a phenotype of OG Kush, although there are numerous guesses and myths surrounding its origins. His possible parents include Chemdawg (hybrid) and Afghani (pure indica). There is also a mention of Triangle Kush, and some sources claim that a grower by the nickname of Ghost active on one of the Internet forums was given a cut of a Kush strain by a fellow participant that led to an emergence of the new strain.
Whatever the story is, the most important thing is that we have Ghost OG as a result.
What Terpenes are in Ghost OG? What Flavor Is the Strain?
Ghost OG's terpene profile is not a typical one. The main predominant terpene in it is Caryophyllene, which is responsible for the spicy flavor and that "cannabis" smell. Next is Limonene. And you probably guessed it - among other things, this terpene adds the sweet citrusy and lime notes so apparent in Ghost OG. The typically predominant Myrcene is only in 3rd place in this strain. It also contains smaller amounts of Humulene and Pinene, and the latter is often noticeable in the strain's rich and multilayered flavor. It is also one of the rare strains that has substantial amount of the Bisabolol terpene.
You can check out the predominant terpenes for all Silver Stem strains in the Flower section.
In addition to flavors, Ghost OG is also full of colors. Its palette is very exciting ranging from light green to yellow and even purple. The buds are typically oval and rather dense, and are covered in a crystal colored web of trichomes.
Growing Ghost OG
It is a great strain to start with - it doesn't require a lot of maintenance and experience. It is also very resistant to mold and mildew, pests and other obstacles in growing your own. But, it is not that high yielding and is only available in clones.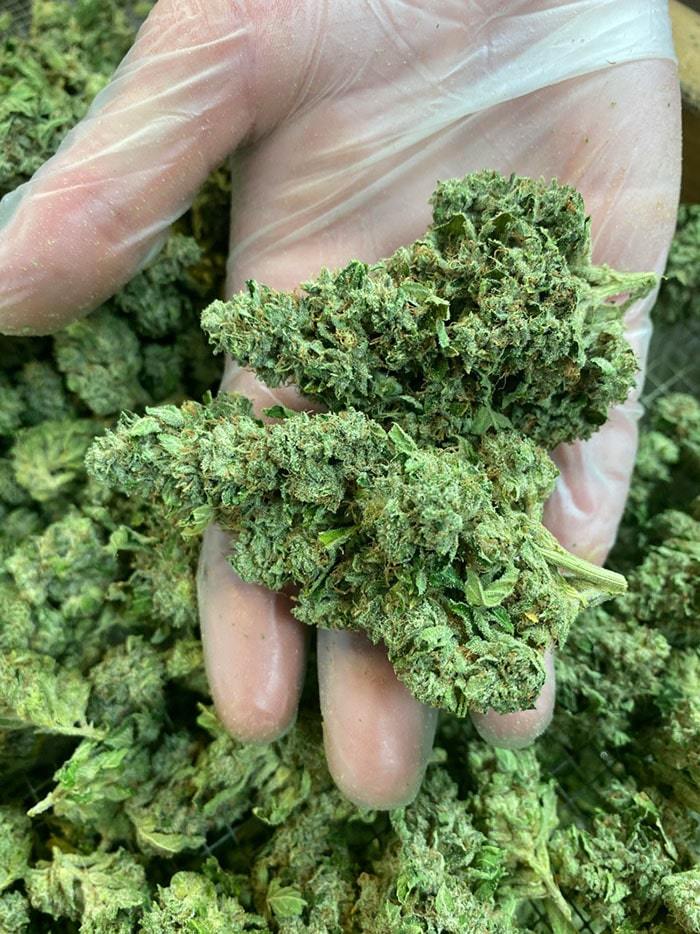 Type of High, Potential Effects and Benefits of Ghost OG
Ghost OG's THC content is usually around 22% while Silver Stem's Ghost OG has an average of 25% THC peaking at an impressive 27% with almost no CBD.
Despite the relatively high percentage, the strain is easy to handle - the balanced body and head high is very soothing a lot of consumers report the effects to be simply euphoric.
The buzz from Ghost OG starts off with a numbing and tingling sensation, particularly in your fingertips. Once the initial high slightly wears off, you will experience the other side of Ghost OG - it is a very socializing strain that will get you laughing and talking. A lot. It is also great for stimulating creativity as well as turning a mundane task into something more fun. The key word for its effects - relaxing.
Ghost OG barely has any negative effects - you might get munchies if you are not a regular consumer, and dry mouth and eyes are a possibility, but if you stay hydrated you should have an absolutely blissful experience. It has some effects that may make you a bit sleepy but it can still be used during day time.
The strain's long-lasting effects also helped its popularity among medical marijuana patients. As with many cannabis strains, Ghost OG has the potential to help with pain management, especially chronic pain, arthritis, muscle aches, cramps, and the like. It is not a drowsy strain but it may assist you with getting some restful sleep as well.
Conclusion
Ghost OG is a wonderful OG indica that often offers a prolonged state of euphoria and has a wide range of potential benefits.
Have you had the chance to try Ghost OG?
Select your dispensary and click order to navigate the menu