Silver Stem Fine Cannabis Named Best Dispensary for Classic Strains in Westword's Best of Denver 2023
This is an incredible honor and a true testament to the hard work and dedication of our team.
At Silver Stem Fine Cannabis, we take great pride in offering a premium cannabis experience. We understand that our customers have a variety of options when it comes to purchasing cannabis products, which is why we strive to exceed their expectations in every aspect of our operation.
We are particularly proud of our selection of classic strains, which have been enjoyed by cannabis enthusiasts for generations. Our team is dedicated to sourcing only the highest quality products, ensuring that our customers have access to the best strains available.
But it's not just about the products we offer - we believe that exceptional customer service is just as important. That's why our knowledgeable staff is always on hand to answer any questions and help our customers select the perfect strain for their needs. We want everyone who visits our dispensary to feel welcomed, informed, and satisfied with their purchase.
Being recognized by Westword as the Best Dispensary for Classic Strains is an incredible achievement for us. It's a testament to the hard work and dedication of our entire team, and we couldn't be more grateful for the support of our customers and the cannabis community.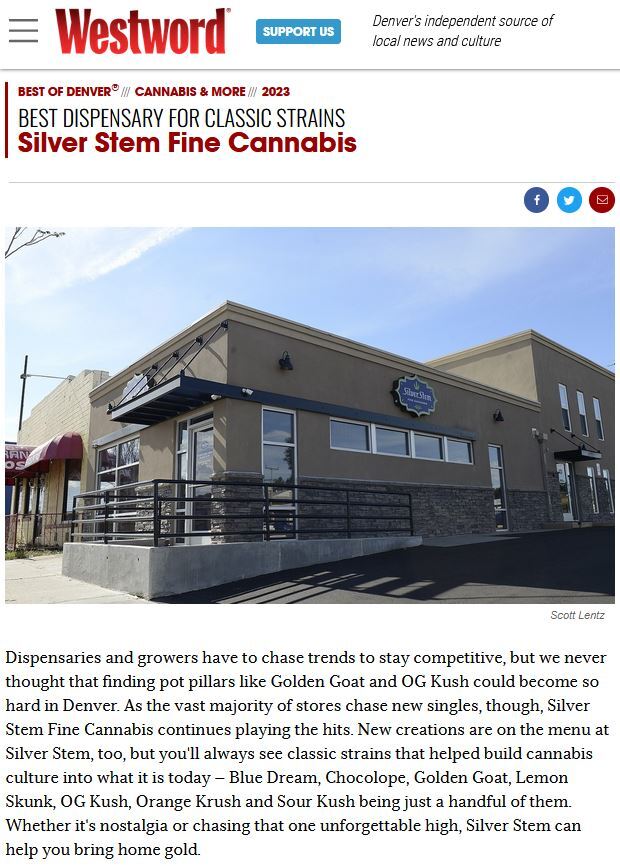 If you're looking for a premium cannabis experience that includes exceptional products, knowledgeable staff, and outstanding customer service, we invite you to visit us at Silver Stem Fine Cannabis. We are committed to providing the best possible experience for our customers, and we look forward to continuing to serve the cannabis community in Denver and beyond.