Jerry's OG Strain Review. Skier's Delight
Born and bred out of our desire to send it in honor of our favorite mountain marauders, this flower will have Jerry's everywhere plowing pow.
The only thing this indica can't do is open a portal, but Jerry's got that covered, anyway.
Live like a local and turn into a pro with Jerry's OG. We insist. Please. Skis not necessary during purchase. Enjoy responsibly, and do not consume and ride.
Jerry's OG Strain Origins. Is Jerry's OG Indica or Sativa?
Jerry's OG is a heavily indica dominant strain. It was created by the Silver Stem's amazing grow team by crossbreeding Sour Kush and True OG. The former is an indica-dominant hybrid, which gave birth to a whole line of new strains and latter is a pure indica.
What Does Jerry's OG Smell Like? What Terpenes are in Jerry's OG?
The predominant terpenes include Myrcene, Limonene, Caryophyllene, and Humulene. Myrcene provides that pungent "weed" smell while Limonene offers the fruity, citrusy notes of Jerry's OG.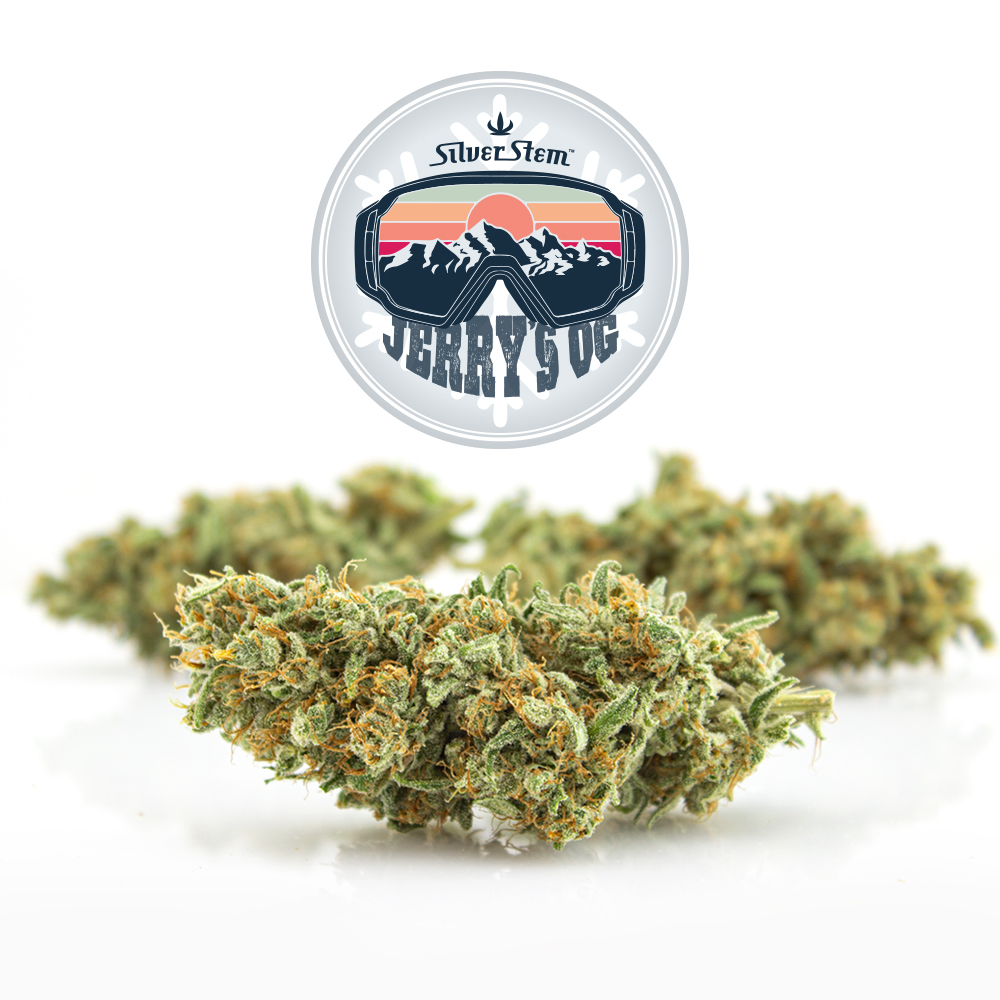 Jerry's OG Krush Plant and Bud Appearance
Jerry's OG has dark green buds covered with long brownish hairs and lots of trichomes. It is a great looking plant with dark green leaves and large, towering colas.
Select your dispensary and click order to navigate the menu
How to Grow Jerry's OG?
The strain is rather resilient but requires a lot of attention on the side of the grower. Jerry's OG is not really suitable for outdoors as it requires warmer climate and plenty of light, all of which is easier to provide indoors. The flowering usually takes 9-10 weeks indoors.
How Much THC is in Jerry's OG?
Jerry's OG THC percentage hovers around 19-22% but can go up much higher. But it is not about the numbers. It is about the experience. Although, at its peak Silver Stem's Jerry's OG clocked an impressive 28% THC.
What Are the Effects of Jerry's OG? Benefits, Negatives, Type of High
Jerry's OG effects are that of a pure indica. The body high is smooth and not racy as it often is with sativas. You will be feeling happy and trouble free in no time.
It can be used by beginners and more experienced consumers alike. The experience will be blissful and energizing.
Sever cases of munchies are not uncommon with Jerry's OG so stock up on some snacks before lighting up.
Its medical properties have been reported to be similar to its parent Sour Kush that may help with stress, pain, depression and much more. It may also help with appetite issues.
In Conclusion
Next time you visit Silver Stem looking for a pick me up, definitely give this latest creation a try. You have to try this new sensation from Silver Stem's grow team. Its euphoric high and an array of medical benefits are something out of this world.
Have you already tried the amazing Jerry's OG from Silver Stem?